Since 2004, Sforzando has welcomed 500+ campers from 15 states, hosted 19 final concerts, performed 10+ specially commissioned pieces, and watched countless memories be formed. Our alumni are spread around the world working as professional musicians and in full-time ministry. We give God the praise for all that He has done to establish the camp we know and love today!
2002 - Ries Barlow and the Mueller family began praying about starting a music camp.
2004 - Marquette Manor Baptist Church enthusiastically welcomed the first Sforzando String Camp. 53 campers enrolled in the three orchestra levels and a harp program. Several of the first campers have since come back to Sforzando as faculty.
2006 - Dr. Brown began his 11 year tenure as conductor of the Advanced Orchestra. Campers always looked forward to his lively rehearsals and superb viola jokes.
2011 - The church used specially constructed platform extensions to fit every orchestra member on stage during this record-high year.
2017 - Mr. Rosove joined the faculty and inspired the Advanced Orchestra to new levels of musicianship.
2018 - Sforzando celebrated its 15th anniversary with an alumni banquet and concert. Alumni enjoyed reminiscing and performing again alongside SFZ orchestras.
2020 - Campers and faculty collaborated on two virtual orchestra pieces instead of gathering in person.
2021 - Ries Barlow stepped down as camp director to pursue new ministry opportunities. Long-time faculty member Allen Probus accepted the new role and committed to restarting camp following the year of COVID.
2022 and beyond - More pieces are waiting to be played, friendships to be discovered, and memories to be made as we continue to pursue our goal of training musicians to worship God through excellence!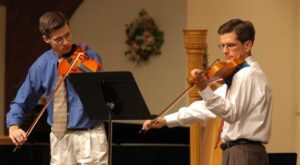 Joe Mueller and Ries Barlow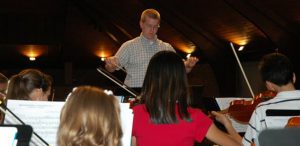 Allen Probus in 2005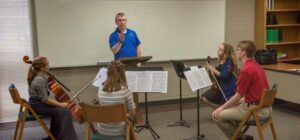 Allen Probus in 2022